Commercial Door Installation | 505.858.1017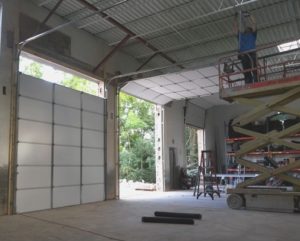 Whether you need a high-speed door to maintain climate control in your commercial refrigerator or a security grille for your shop-front, count on BDC Door for quality installation and service. Since 2000, we have been Albuquerque's Best Door Company, and we provide garage door installation, maintenance and repair to homes and businesses throughout the area.
We Can Install Any Garage Door
BDC Door works with top manufacturers of commercial sectional, coiling and overhead doors. We can help you identify the best door for your needs and provide quality garage door installation for your new or existing building.
Our background in general contracting gives us an advantage over the competition. Our team has more than 50 years of combined experience in contracting, from planning to installation and construction services.
We can do more than simply install a garage door in an existing doorway. We can help with new construction or building renovations, removing walls or cutting out new doorways to accommodate your exact needs.
The Importance of Quality Installation
Garage door installation is more complex than you might think. It takes experience and quality workmanship to ensure the door will perform safely, reliably and efficiently. From helping you choose the best door for your needs to keeping it in working order for years to come, the experts at BDC Door are the trusted authority on commercial doors.
Call us today to learn more about our services or to obtain a free quote for your garage door installation.
Call 505.858.1017 to schedule service today.