We Carry the Top Designer Series Garage Doors | 505.858.1017
What makes us different from your average door company?
We sell a wide array of residential garage doors from top brands.
We are licensed general contractors, allowing us to do minor construction to a building to custom-fit a garage door – something other companies won't touch.
Our team has decades of combined experience and expertise in the industry.
We are committed to top-quality customer service from beginning to end.
We can convert your two single garage door openings to one complete garage door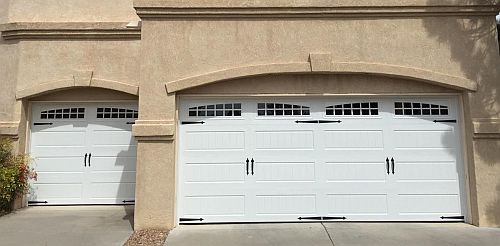 You probably go through your day without giving the garage door a second thought – until the garage door opener breaks down, the door refuses to budge or you dent the door with your car!
Fortunately, thinking about garage doors is our job at BDC Door. We're experts in garage door maintenance and repair – our team has more than 50 combined years of experience in the field – and we're also dedicated to providing top-notch service so you know you'll be in good hands.
From New Installation to Routine Maintenance
We handle a range of residential garage door services, including:
New installations and garage door upgrades.
Garage door repairs and maintenance.
Garage door opener installation and repair.
Whether you want to improve the look of your home's face by installing a new door or your old door's hinges are sticking, BDC Door can provide the top-quality and efficient service you deserve!