Commercial Glass Doors | 505.858.1017
Commercial glass doors are both attractive and functional. They provide a great alternative to solid steel or aluminum doors for many businesses and industrial purposes. If you need the convenience and security of an overhead sectional door without sacrificing light and visual access, glass doors are the perfect compromise. Many businesses also choose them for their modernist aesthetic; aluminum and glass doors can create an attractive and up-to-date front for your building.
BDC Door is Albuquerque's authority on commercial doors. Our experienced technicians can help you to decide which door is best for your company's needs, as well as handle the planning, installation and service to keep your door at peak performance.
Why Choose Commercial Glass Doors?
Glass doors offer several benefits: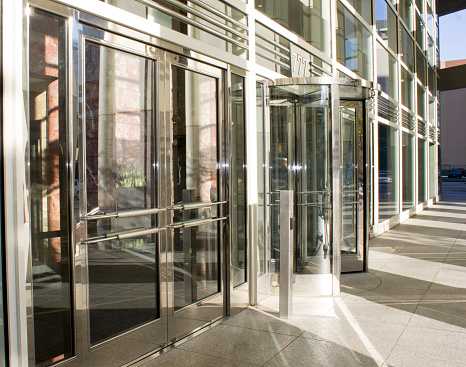 They provide an inviting and attractive face for your building.
They allow natural light into a building, improving the atmosphere inside.
They give customers the ability to see inside the building where visual access is a perk.
Sectional glass doors provide all of these benefits without losing the convenience and security of more traditional steel overhead doors. Generally made with durable and lightweight aluminum frames, our glass doors can be customized to fit the look of your building with everything from paint and finishes to tinted and frosted glass.
Installation and Repair
Unlike other garage door companies, BDC Door has a background in general contracting. We are licensed contractors capable of handling every aspect of door installation in a new or existing structure – from planning to removing walls to installing and maintaining the perfect door technology for your business needs.
To learn more about our commercial glass doors or to get a free quote for installation, contact us today!
Call 505.858.1017 for more information about our services.