Garage Door Security Tips | 505.858.1017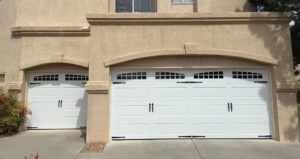 Security is an ever-growing concern. An often overlooked security issue is the garage door. Here are some tips to consider:
TAKE THE GARAGE DOOR REMOTE OUT OF THE CAR
Many newer cars allow you to program the garage door into a setting on the car. If your car does that, use it. If not, don't keep the remote in the car. If someone breaks into your car, they now have access to your house. For women, consider keeping it in your purse. For men, a briefcase or worst case you'll need to enter your house from the front door and then open the garage door to park your car.
USE A SMARTPHONE APP THAT INTEGRATES WITH THE GARAGE DOOR OPENER
Instead of relying on a manual garage door remote, why not use a smartphone app that integrates with the garage door opener? The app allows you to control the garage door from your smart device. The app can also provide information on when the garage door is opened. It can be linked to a home security camera, and you will see who is accessing the home and be alerted when the garage opens. Furthermore, the app is password or fingerprint protected, making it hard to steal or break into.
ADD FROSTED GLASS TO THE GARAGE DOOR WINDOWS
A lot of crimes are crimes of opportunity. Make sure would be criminals cannot see you're your garage. If people cannot see what is inside, they are less likely to be tempted to steal it. This is where frosted glass can be helpful. Frosted glass will preserve the aesthetic appeal of the garage door while concealing what is inside.
INSTALL MOTION LIGHTS OVER THE DOOR
Finally, consider installing motion lights above the garage door. If someone gets close to the garage door, the motion lights will turn on, drawing attention to their presence. This will alert the homeowners as well as the neighbors to whatever is happening in front of the garage door. This can be enough to ward off people who would otherwise be thieves or burglars.
We can help. Contact us here at BDC Door to find out how we can help you implement these garage door safety and security tips!