Loading Dock Seals | 505.858.1017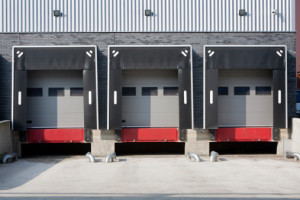 When it comes to cold storage and climate-sensitive stockrooms, protection against the outside is vital. You don't want to waste energy losing cold air to the outdoors while loading or off-loading a truck, and you don't want to risk light damage or debris contamination in your stock.
That's why BDC Door offers many loading dock solutions, including strip doors and dock seals. Our dock seals cut down your energy costs, boost efficiency and provide a layer of protection between your stock room and the outside world.
How Dock Seals Work
Dock seals form an extended barrier around the outside of your loading dock's doorway. They serve as dock bumpers, offering a layer of protection between the back of the truck and your building. They also press against the back of the truck, forming a seal. This preserves the internal temperature of your warehouse or stockroom and prevents contaminants like dust, debris and insects from entering during loading/offloading times.
A variety of dock shelters and seals are available, including some designed specifically to protect sensitive stock from light contamination. If maintaining certain light levels or temperatures in your stock room is important, dock seals are crucial.
Loading Dock Equipment and Accessories
BDC Door is Albuquerque's authority on commercial doors and accessories. We can help you outfit your loading dock with the necessary equipment to maintain efficiency and performance. Contact us today to learn more about our available services and products; we'll be happy to discuss your needs and find the perfect solutions for your business!
Call us at 505.858.1017 for a free quote today.