What's the most popular garage door color? | 505.858.1017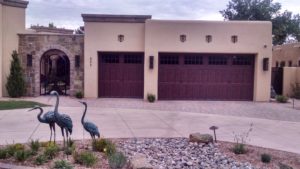 Picking a garage door color is an important decision. It says a lot about you and your style preferences. According to our homebuilder clients, the most popular garage door color is white – and that's because it goes with everything. White is the blending of all colors on the color spectrum and it balances out nearly every home design. We find that white complements best and creates an overall crisp and uniform appearance.
But if you want something other than white, something with a design flare, BDC Door has lots of options to consider.
Depending on your home style, wood finish or wood accents can complement the design; so can glass.
You can also match the garage door color to the stucco color to have it not stand out, and blend into the overall look and feel of the house.
Another possibility is to take a color that is already on your house and match the door to that color. For example, if you have white trim on your windows, doors and gutters, you could paint it white. If you have gray on your trim, you could paint it gray.
Our runner ups for top colors are: Soft gray, dark gray, beige/taupe and walnut brown.