When is it time to replace your garage door? | 505.858.1017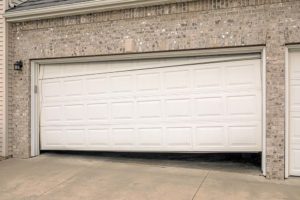 Garage doors are important, yet easily taken for granted. Yet keeping your garage door working efficiently and looking great plays a major role in improving your curb appeal, security and value of your property.
When there's a problem, often times a simple repair is all that's needed. But overtime, all garage doors are subject to wear and tear, age, sun damage and will eventually stop working effectively. When that happens, it's time to replace it.
Here are signs it's time:
Repeat breakdowns
If you have persistent trouble opening or closing your garage, hopefully it's a part that needs replacing. But if you're frequently having to call us for a service visit, it may be less costly to replace the garage.
Your garage door is making too much noise
Garage doors often start making noise over time, and a little tune-up can improve the situation. However, if you notice excessive grinding, straining, cracking and creaky noises, it might be time for a new one. New louder noises are signs that your door is deteriorating. This could cause more serious problems that will lead to additional repair costs.
Your Door is Full of Dings and Dents
Minor dents and dings can always be patched up. But dents and dings add up over time as you regularly use your door. Some of the most common causes of bruises and bumps are accidental collisions from your vehicles, your kids' toys, and effects of weather elements. Eventually, the cumulative effect of these things cause the function and look of your door.
Energy Efficiency
Newer garage doors are designed with safety and energy efficiency in mind including bottom seals, sealing joints and weather strips which keep the heat in and the cold out. These improvements reduce your energy consumption. If you have an older door, it might be time to consider getting a newer modern one.
Safety and security issues
Older garage doors don't have the level of security available on newer models today. Construction methods, materials, and features have evolved over time resulting in garage door models with sturdier designs and additional smart locking mechanisms. Most thieves now target older style doors. Modern doors also incorporate safety garage door parts and features such as sensors and auto-retraction to minimize accidents. Other models even come with smart garage door openers that can be linked to mobile apps for remote monitoring and control. If this sound appealing enough to you then it's high time you did an upgrade.
Broken handles, hinges, and wires
Broken garage door parts like handles, hinges, and wires are a serious sign a new garage door installation is due. Hanging wires and broken door handles will limit your door use as well as present a safety hazard to you and your family.
As already mentioned, a simple malfunction or flaw doesn't warranty replacement of the entire garage door system. However, if you see one or more of the signs listed above, you should seriously consider replacing your garage door for safety, security and functionality reasons. As a rule of thumb, always seek for the professional door repair and installation services when anticipating major upgrades such as installing a new garage door.