Choosing the Right Garage Door for Your New Commercial Business | 505.858.1017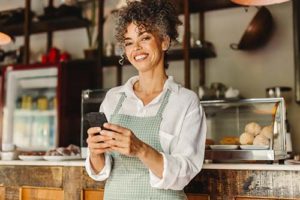 You've finally taken that first step to becoming an entrepreneur. You've checked off every box to get started and made all the necessary investments but wait!? How are you going to protect yourself and your business once the day-to-day is over? You need a commercial door to protect your business and everything that comes along with it. But where do you start? There are so many options to choose from, which one is right for you? Consider these two things as you shop for the right commercial door for your business:
What kind of building do you need a commercial door for?
Do you primarily operate out of a showroom? Warehouse? Storefront? Maybe all three? It's important to choose the door based on the type of building you own. This can help narrow down your selection and allow you to make a better decision.
Identify the type of commercial door you need
Warehouse – Protecting inventory and equipment is very important. This means security, durability, and accessibility are the most important things to consider. Coiling doors are the best to consider when dealing with large bays and loading and unloading inventory.
Showrooms – If aesthetics and durability are important to you. Then a sectional overhead garage door is the best for your showroom. This selection allows for a design-ready look to show off the contents of your showroom floor. However, they don't sacrifice security in any way. Whether steel or aluminum, all your inventory will be protected without sacrificing that sleek modern style.
Storefront – It's no mystery that crime is at an all-time high. Storefronts are the primary target for thieves. However, security grills will add that layer of protection to keep you and your business safe.